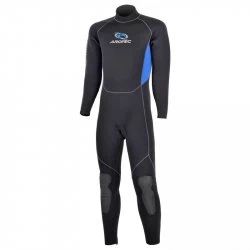 Availability:
111 In Stock
Wetsuit Aropec 5mm Fullsuit Blue
5 mm neoprene to achieve basic warm protective effect. Rear neck adjustable devil felt design. Back zipper and add nylon ribbon design for easy wear and tear. Flat needle stitching design reduces skin friction and enhances comfort. Knee knee brace printing design increase wear resistance.
Suitable for diving, snorkeling, swimming pools and any water sports, provide basic protection and warm effects, and maintain physical flexibility.
5mm super stratch on back waist
Back zipper & adjustable neck
Ankle zipper
Gluded & blinded stitched
Rubber kneepad