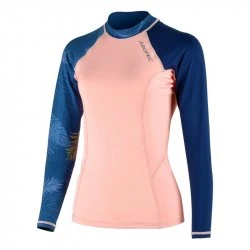 Availability:
111 In Stock
Lady's long sleeve

Rash Guard Aropec SS-5K88W
Women's rash guards may look simple, but they are actually quite versatile. The lycra material has UV protection UPF50 +. They protect against a variety of conditions at once so you can have an enjoyable time.
The lycra has a quick-drying property and can also be used on many water activities.
Lycra collar, arm panels provide strengthy comfortable & movement
Lycra side chest good to wear
Flatlock stitched construction for non-chafing wear
Suitable for hot climate of aquatic sports