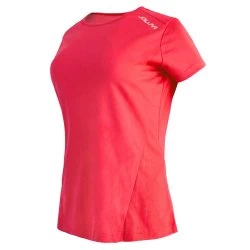 Availability:
111 In Stock
Women's T-shirt Joluvi Runplex Pink
The t-shirt is a vastly underrated item of clothing. Simple yet versatile and so essential to our everyday wardrobe.
Designed to keep you dry and fresh while you work up a sweat, our active tops for men are lightweight, quick-drying and breathable. As a result of its features, it is an ideal companion for you on your runs, in the gym or on your bike.
Promotes rapid evaporation of excess swea to the outside of the fabric through the nano-inverted funnels of its construction, keeping dry skin, body heat and preventing muscle cooling after uptime. Soft feeling and lightness