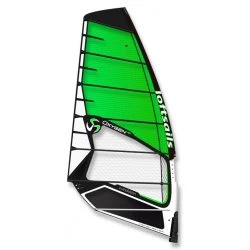 Availability:
55 In Stock
Oxygen enjoys a higher aspect ratio that translates into a more forward-oriented drive and lighter, easier handling. Increased mast lengths are balanced by the closed sleeve top, replacing the previous head plug with front-to-back head straps.

Luff curves and leech configuration are redesigned to offer more solid bottom-end power and a higher range of trim reactivity. This reactivity is key to the design's expanded performance: Oxygen delivers both low wind slalom grunt and sleek upper-end performance.
Batten pockets that alternate sail sides – same material for the batten pocket as the body material minimizes the asymmetric character of applied batten pockets. Pockets made with laminates allow the batten to be centered. These features combine to maintain rotation symmetry.