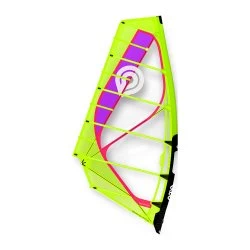 1,850 Lv
1,450 Lv
-400 Lv
Availability:
111 In Stock
Windsurf sail Goya Mark Pro 6.2m2
No Cam freerace. RDM/SDM compatible on all sizes.
Racing speed made simple. The Mark Pro is quick to rig and easy to tune. Delivering impressive low end torque and acceleration combined with easy handling when super powered, the Mark Pro allows you to focus on your line and tactics rather than managing your sail. Super lightweight 6 batten build plus truncated boom length give the Mark Pro a compact, light and easy feeling as you accelerate, when you are powered up at speed and through high speed technical transitions around the buoy. The Mark Pro is best paired with a fast Freerace board, such as the Bolt Pro, or a dedicated slalom/race board, such as the Proton Pro.