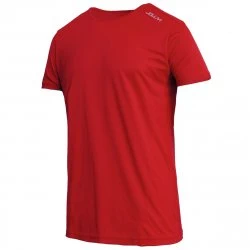 Availability:
111 In Stock
Men's T-shirt Joluvi Runplex Red
Slim fit tee with stretching effect. Folded hem and sleeve cuffs with two-needle stitching.
The t-shirt is a vastly underrated item of clothing. Simple yet versatile and so essential to our everyday wardrobe.
Designed to keep you dry and fresh while you work up a sweat, our active tops for men are lightweight, quick-drying and breathable. As a result of its features, it is an ideal companion for you on your runs, in the gym or on your bike.